Why QC Certification?
HP Quality Center is used as a complete application lifecycle management tool and it is one of the most widely use test management tools in the market today. Hence it is natural that companies seek candidates who are certified by HP and who possess enough knowledge to use this tool on their jobs. QC certification has become one of the most sought after certifications by software organizations and software testers around the world. Some companies allot extra points to employees with QC certification during appraisals.
What is the difference between QC and ALM 11?
Starting from version 11, HP QC will be known as HP Application Lifecycle Management (ALM) v11. Informally people still call it as QC 11 certification.
Can I get some more details on ALM Certification?
ALM 11 Certification comes under the heading of HP AIS – HP Application Lifecycle Management v11 certification, . This exam is conducted by HP in collaboration with Pearson VUE. The latest exam will be called Exam HP0-M46: HP Application Lifecycle Management 11.x Software. This exam is effective from Feb 1st, 2012 and since that date QC 10.0 exam has become obsolete.
How to prepare for Certification?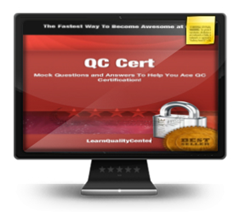 To prepare for QC 11 certification, you can take help of our high quality QC Cert mock certification engine. These questions are developed by experts of QC in collaboration with www.LearnQualityCenter.com
QC cert is a set of 226 questions. QC Cert will not only help you ace QC 11 certification exam but will also help you get a firm grasp over QC concepts. The Quiz software is designed to provide you with maximum learning in the least amount of time. We have invested a lot of time and energy to come up with these questions and have tried to incorporate almost all major concepts of QC and syllabus of QC 11 certification inside these papers.
How mock certification engine works
Once you register using the Add To Cart button below, you will receive an instant mail with the username/password credentials for our secured website. These user credentials will be unique to you and no other person will share the same credentials.
After logging-in to the website, you can start attempting questions at your own pace. After each question that requires explanation, a message window with full explanation of a particular concept will be shown. At the end of the questionnaire your aggregate score will be calculated and displayed. You can then choose to retake the quiz or review your responses again, using our software's convenient interface. You will get access for 12 months. You can take the mock quiz as many times as you wish within these 12  months till you get thorough with various concepts.
Other than the above, quiz interface provides you :
The ability to jump to any question while attempting the quiz to see the option you have marked
The ability to retake the quiz as many times as required
A drop down with all the questions having points allotted for a particular question and points awarded to you
A mix of single answer, multiple answer, True/False questions, matching, sequencing & point and click type questions
The total time elapsed while attempting the quiz
Check what other QC Certification aspirants are saying…
Package and the quality of questions is excellent. Thanks to the package I was able to ace my certification with v good %. Highly recommended.
– Jenny, US
QTP Cert covers a wide range of topics and package engine changes the option of answers in different order which is very useful. I would recommend this for my friends and is very user friendly engine. Its not like any other download, users are given exclusive access to work out and practice on same.
– Vishwa, UK
I would like to get access to QC Cert mock certification engine, what is the cost?

QC Cert is priced at 87 USD. Here we would like to tell you that like our blogs and forums, we have put lots of effort, testing and re-testing to come up with these questions. After the feedback that we received from the people who took this engine in the past, we are so confident that we are offering you a 60 days full money back guarantee* just in case you happen to not pass the exam!
Here is what you get on purchasing QC Cert
QC Cert – 226 Mock Certification Questions on HP ALM v11 (QC 11)
Step by step instructions on how to enroll for QC certification
All questions and answers verified by experts and passed strict quality check
12 months access
Instant access to your secured account
60 Days Money Back Guarantee in case you don't pass the QC 11 exam*
In case you wish to pay in INR, you can pay using this link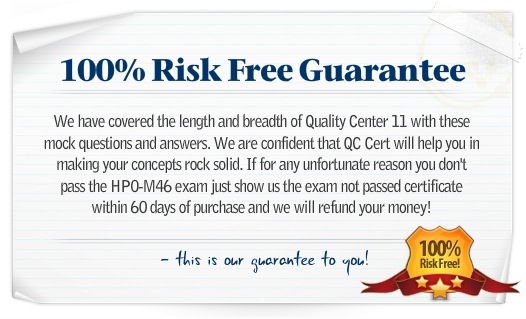 PS: If you have any questions regarding QC Cert, please free to contact us using this link.
PPS: *In case you happen not to pass the exam, simply forward us your "Exam not passed" certificate that you have received from HP, within 60 days of purchase of our mock certification engine and we will refund full money. No hassles and no questions asked!